our suppliers
Genelec
Since the founding of Genelec in 1978, professional audio monitoring has been the core of our business. Our unrivalled commitment to research and development has resulted in a number of industry firsts and established Genelec as the industry leader in active monitors.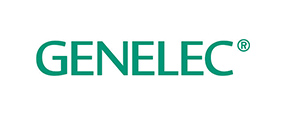 GENELEC
Mission,Values & Vision
Since the founding of Genelec in 1978, professional audio monitoring has been the core of our business. Our unrivalled commitment to research and development has resulted in a number of industry firsts and established Genelec as the industry leader in active monitors.
Over 35 years later Genelec monitoring products remain true to our original philosophy, offering reliability, neutral sound reproduction regardless of size, as well as the ability to adapt frequency response to the listening environment.
We are faithful to our founding principles. We also want to maintain our leading position in our core business with neutrally sounding products for any monitoring need from mono to multi-channel reproduction. Our clients receive paramount support in all aspects of the field, from acoustical advice and calibration services to technical service and
long product life span. Buying a Genelec product is the soundest investment in audio monitoring.
We want to be unique as a company and strive to exceed expectations in all aspects of our business. This means offering first class products and service to our end customers and business partners alike.
During the past decade our business has expanded beyond the professional studio monitor speaker segment to selected consumer markets. Our products are found in an increasing number of home theaters and residential systems bringing soundtracks alive, as they were when recorded. Although the applications may vary, one thing remains the same: the
desire to have the best possible sound reproduction. We are proud to contribute with our sound origins and profound knowledge of what it takes to make it right.
Mission
The Mission of Genelec Oy is to bring joy to customers' lives with the best sound reproduction possible.
Values
Our values include Belief, Enthusiasm, Honesty, Respect and Integrity.
Vision
The brand of choice in Professional Audio and selected consumer markets.
The Genelec Story - A few Benchmarks of our Journey
Inspiration
In order to present something inspiring you first need to have inspiration yourself. It was the enthusiasm for sound and electronics of two young students, Mr Ilpo Martikainen and Mr Topi Partanen, some 40 years ago, which later made them become founders of Genelec. They did not know it at that time, but such foundation was needed before ideas and products could become visible.
The same can be seen in the work of many of our friends: the desire to reach their dream, the motivation to achieve something remarkable, the willingness to put their heart into their work. Before it can come out, one needs to have that internal flame.
No wonder one of the values of Genelec is Enthusiasm. This is something we share with our customers.
Roots in Broadcast
In 1976 YLE, the Finnish Broadcasting Company was building a new radio house in Pasila, Helsinki. Mr. Juhani Borenius, who worked as an acoustician for YLE, asked his friends at a post-graduate acoustics seminar if they could make an active monitoring loudspeaker. First Ilpo Martikainen and Topi Partanen needed Borenius to precise what he was looking for, and two weeks later they produced the first sample. The prototype was far from perfect but promising enough to raise serious interest. In 1978, after two years of serious research and development, Genelec Oy was founded and the first active monitoring loudspeaker, the S30, was ready.
For its time the monitor was very advanced both electronically and acoustically. The customer specification was advanced as well. In addition to normal requirements to be measured in an anechoic chamber, these specifications detailed acoustic performance also in a control room.
Together with the requirement for consistent performance, high reliability, easy serviceablity and guarantee for extended spare part supply, this made a challenging start to match the most demanding customer needs of the time. Meeting those specifications required lots of engineering, measurements and testing. Precision tone controls, driver unit protection circuitry, advanced amplifier topologies – all of which have been part of our monitoring loudspeaker design ever since – were developed in 1978. A proprietary HF ribbon driver was developed as well.
This brings us to one of Genelec's values: Belief. We believe in our own ideas, instead of copying others, enabling us to contribute to something unique in the industry. This belief has been rewarded with an uncomparable trust among our customers, for over 35 years in broadcasting and expanding all over the world and into new segments and applications of high precision sound reproduction.
Sound Reinforcement
At its best, sound reinforcement was half of the business of Genelec. The company installed many drama theaters in Finland (among others the National Theatre, City Theatres of Rovaniemi and Kuopio, etc.), the congress hall of the new Cardiologic Hospital in Moscow, the Moscow Circus and even two recording vans for YLE. The last contract job was Tampere Hall and the last reinforcement system supplied went to the Royal Opera in Madrid.
Genelec wanted to become known as a monitor manufacturer above all, and so the decision was taken in 1989 to depart from sound contracting. It became clear that the decision was the right one. But the years spent in contracting taught many valuable lessons – among other things knowing what the life of a contractor is. It is a profession of its own. What could have taught better how to listen to the needs of contractors – whether for commercial installations or for high class residential installations for home entertainment? The basis of the best-in-class loudspeaker systems is there for these expanding applications.
Respect is also an important value at Genelec. Respect includes our relation and attitude to customers, fellow employees, partners, competitors and environment.
Expanded Offering
The first ten years of Genelec were basically a struggle to stay alive. By 1985 Genelec was producing 12 monitor models. Genelec's press release that year tells that there was a rumour going around at the 77th AES convention in Hamburg: that the purpose of the event was to show the complete Genelec active monitor family.
Right after the decision to concentrate on monitoring loudspeakers an opportunity opened to design a very loud and clean Control Room Monitor. Soon after its introduction in London in 1989, the 1035A became very popular in major Japanese studios and paved way for new types of monitors combining very low distortion and coloration with high output - an unprecedented combination prior to that.
The 1990's were a time for establishing a position as leading manufacturer of active monitoring speakers. New, smaller products were developed, the brightest pearl perhaps being the 1031A in 1991. Nowadays, regarded as the most important product of the 90's in the pro audio business, it is also known as the mother of all modern two-way active monitors.
Our current offering is the most complete on the market place: from the very compact 8010 to the massive 1036A, for any location of any size. With its reputation for excellence and uniquely extensive offering Genelec has also been the benchmark and target for many competing offerings. At Genelec we regard this as a compliment. Our later product releases show that our ability to surprise positively again and again with new proprietary technologies and designs has only been inspired by the attention to details.
This is easy when one of the values of the company is Integrity. We share facts, and our specifications stand the most advanced measurements. The more our customers and partners know the better for us also. We are here for sustainable and mutual success.
Directivity Control
In 1983 Genelec made its first drafts of the 1022A which came into production in 1985. This was a radical development from the shape of the 1024A. The aim was to eliminate diffraction by making the cabinet rounded and to control the directivity the drivers were recessed in a carefully formed waveguide. The result was acoustically breathtaking with the typical pressure response falling into a +0.75 dB window.
This was the starting point of our proprietary Directivity Control Waveguide™, or DCW™ technology, which has been used ever since in our loudspeaker designs, large and small. In the conventional rectangular enclosures the DCW™ houses the tweeter and the midrange drivers, and in die-cast enclosures the DCW™ is integrated into the enclosure itself. With properly controlled directivity the off-axis response is much flatter than otherwise, which means a wider listening area with the same tonal characteristics as when listening on-axis. At the same time edge diffractions are minimised.
Loud and Clean
In 1988 Genelec put a lot of effort to design the loudest and cleanest control room monitor in the market. The design was started by recording the actual sound pressure level at a drummer's ear, since musicians often want to hear their playing at its natural volume in the control room. A high output low distortion midrange driver, a new 3 kW amplifier, a large DCW™, improved driver thermal protection and amplifier diagnostics had to be developed. The 1035A was introduced in 1989 and it soon became very popular in both UK and Japan. New woofers appeared in the 1035B revision at the end of 1993. Based on the 1035B, the new flagship 1036A was developed in 1997. Its 19 Hz low frequency cut-off implied the use of a larger enclosure and dual 460 mm (18") woofers.
Aluminium for Heavy Metal
Many people think a good loudspeaker enclosure must be made from wood-based material. That is not the case. The first Genelec die-cast aluminium model was the 1029A, introduced in 1996. The birth of this small miracle was triggered by our Italian and French distributors who saw the need for a smaller product. Die-cast aluminium offered, among stiffness and other benefits, large internal volume in relation to the external enclosure size.
As this technology proved its value, it was natural to continue on this route. Co-operation with Harri Koskinen, one of the most acknowledged industrial designers of our time, lead first to the birth of the 6040A (2002) and then to the launch of the 8000 Series (2004). With the curved and stiff Minimum Diffraction Enclosure™, advanced DCW™, optimised die-cast aluminium structure, high performance reflex port design, new low distortion drivers with sophisticated filtering technique, versatile mounting features and Iso-Pod™ (Isolation Positioner/Decoupler), these products set a new standard in two-way monitors.
At first – and from a distance – some people were mistaken to believe these smoothly curved speakers were made of plastic, as was customary for rounded shapes. But a closer look revealed the true construction. The extremely durable semi-matt finish and acoustically optimised metal grilles allow for intensive handling without damaging the monitor. It is light metal and capable of handling demanding monitoring with minimum distortion!
How Deep is Deep?
When a prototype of the Genelec Laminar Spiral Enclosure™ LSE™ subwoofer was shown to some distributors in 2001, the first reaction was astonishment: "This can turn out to be a total flop or a great success. Basically a subwoofer cannot look like this. On the other hand, if somebody is to redefine the subwoofer, it should be Genelec." Introduced in 2002, this revolutionary and patented subwoofer has proved a great success. The spiral-shaped design yields an extremely rigid enclosure exterior while also forming the subwoofer's integral port. Air flow in and out of the enclosure's interior through the spiral-shaped port is totally unrestricted, which results in an extraordinarily accurate and responsive low-frequency system with very low distortion, matching the quality of the main monitors.
With multichannel audio, professional and consumer systems must be able to reproduce all frequencies from each channel. Main monitors, subwoofers and crossovers should work together to provide a flat response for each channel. To link the subwoofer(s) seamlessly to the main monitoring system, you need a sophisticated bass management and this is what Genelec 6.1 Bass Management System does.
Sound and Form
Industrial design has been in the company agenda for more than 20 years. In an acoustical product its form is part of its performance. Many breakthroughs the audio monitoring field have been created and Genelec is proud to introduce bold initiatives. The aim is consistency – not conservatism. As Genelec stands for long lasting value, the same holds for the form language itself: it is modern but timeless.
When Genelec introduced the 1022A in 1985, it raised many eyebrows. Likewise, when we renewed our two-way range with the 8000 Series in 2004 the change appeared radical for many at the time, as it did not follow the square box conventions. Now the new form with its performance improvements is well accepted – actually it has become a new standard. For us a change is always for a good reason: improved performance.
Designed to Adapt
Actually the requirements issued by the Nordic Broadcasting companies in the late 70's (N12-B) implied an active monitor that should have room response controls. Hence, as explained earlier, the first S30 active monitor had already precision tone controls as well as a bass roll-off control. Since then our room response controls have become ever more refined.
The power of DSP opened new possibilities for controlling the monitoring system. As we had developed the Minimum Diffraction Enclosure™ for the 8000 Series, the logical extension was to continue from this acoustically solid foundation and develop the 8200/7200 Series DSP monitors and subwoofers, introduced in 2006. Extensive experience from hundreds and hundreds of on-site studio measurements had given us good understanding of the challenges of the varying listening environments. The power of the DSP technology and in-house software development were harnessed to bring measurable benefits for the customers. Our GLM™ – Genelec Loudspeaker Manager™ - software brings the entire DSP system together under PC and Mac computer network control. Together with AutoCal™ this system can match every loudspeaker of a stereo or multichannel system, including subwoofers, with unprecedented accuracy to the listening environment in a few minutes. It is the most complete, versatile and easy to use automatic calibration system so far developed. It is like having a Genelec acoustical product specialist on hand any time you wish.
Innovative Technologies
Aiming to manufacture a compact three-way system, the idea to design a new coaxial driver was born in 2008. In order to eliminate fundamental coaxial design problems a unique Minimum Diffraction Coaxial MDC™ driver was developed. This breakthrough design consisted of an integrated midrange-diaphragm-suspension-tweeter. The joint between the midrange diaphragm and the tweeter, as well as with the DCW waveguide was totally smooth and diffraction-free, leading to precise imaging and outstanding sound quality on- and off-axis. Featuring the MDC driver, integrated DSP circuitry and full control via GLM and AutoCal software, the 8260A three-way active monitor was released and set a new standard in three-way systems.
In 2012, Genelec launched the concept of Smart Active Monitor SAM™ systems, a marketing term helping to identify the capability and intelligence of these systems to adapt automatically to their acoustical environments. This includes aligning levels at the listening position, adjusting delays from the signal input to the listening location, and frequency response equalisation for the acoustical room influences. SAM's can be controlled with digital networking, enabling users to build highly flexible computer controlled networked monitoring systems. The acoustical output of SAM's can be optimised with software calibration to suit different working styles or client demands.
In the Hall of Fame
End of 1990 Italian Radio RAI were looking for new monitors and asked if Genelec could design a larger two-way monitor than the existing 1019A. The R&D work started immediately and the basic design decisions were taken after a couple of prototype rounds. The use of the DCW had started in 1984 in the three-way active 1022A and later in 1989 in the large format 1035A. In the 1031A the tweeter DCW was made square and reflex ports were located on its sides to follow the design pattern adopted in larger three-way 1035A, 1034A and 1033A. A new amplifier design featured a separate discrete power amplifier driver module and clever thermal design: power transistors were located on the vertical centre of the rear panel. The amplifier was also modular and the crossover filter was efficiently a plug-in board. Additionally, to prevent any rattles, the amplifier was mounted on rubber shock mounts to isolate it from any vibration caused by the woofer.
In 1991, the high performance 1031A was released and offered a flat response up to 23 kHz, two 120 watts power amplifiers and the ability to reach 120 dB maximum peak output per pair at 1 m with music material. Featuring high, neutral output, wide bandwidth and controlled directivity in a compact, reliable package with extremely tight response tolerances and room response tailoring options, a classic was born. All of these made the 1031A a popular choice with top engineers and producers, studios and broadcasters worldwide. It stayed in production for 15 years, eventually being replaced by the 8050A, part of the 8000 Series monitors.
In 2014, the Genelec 1031A two-way active monitor was inducted in the TECnology Hall of Fame which honours and recognises audio products and innovations that have made a significant contribution to the advancement of audio technology.
Sustainable Designs
Since its founding Genelec design philosophy has been based on sustainability, reliability and environmental values. Conservation of natural resources and efficient use of material and energy in all levels of manufacturing, shipping, and during the product lifetime are essential to Genelec. The low lifecycle carbon footprint products are manufactured under the same roof, in Finland, allowing us to select environmentally efficient solutions.
Genelec factory's heating is handled with renewable energy. The recycled aluminium used in the manufacturing of the die-cast enclosures saves 95% of energy compared to using virgin aluminium.
Introduced in 2013, the Natural Composite Enclosure (NCE™) of the M Series is made of a material that is best described as fully recyclable injection-mouldable wood composite. Sourced from sustainably managed forests, this natural fibre composite material contains approximately half wood fibres which contribute to excellent enclosure performance. The M Series packaging is made of recyclable cardboard and the shock absorber linings inside the packing are made of recycled paper pulp.
Conserving natural resources extends beyond the use of recyclable natural materials. Products are designed to be durable with a very long life time. Materials are selected so that they can be reused, either in their original purpose or for new types of products. This is the best form of sustainability.
and the story continues...
Genelec Design Philosophy
All models share the same neutral sound characteristics.
The monitors are always delivered as a complete factory aligned system consisting of all amplifiers, crossover electronics and speaker cabinets.
Each loudspeaker drive unit is powered by its own, matched amplifier channel.
Amplifier and respective drive unit are directly coupled to avoid passive crossover distortions.
The active electronic crossover unit operates at low signal levels and is built into the system preceding the power amplifiers.
The crossover amplitude and phase responses are optimized for each particular model to achieve highly accurate system performance.
All systems feature drive unit protection circuitry for reliable operation while maximizing system sound output.
All systems are equipped with versatile room response adjustments.
The acoustic performance is optimized for both on-axis and off-axis listening with proprietary Directivity Control Waveguide™ (DCW™)
Obituary of Ari Varla
Ari Varla, the long-standing principal electro-acoustic design scientist at Genelec Oy, Iisalmi, Finland succumbed to a prolonged illness in Iisalmi, Finland on the 22 August 2008. Ari Varla was born on the 1st August 1956 in Tampere, Finland. He received an M.Sc. degree in electronic engineering from Tampere University of Technology in 1987 and joined Genelec already in 1980 during his university studies, staying with Genelec his whole working career. He was one of the key figures at Genelec Oy.
The company would not be the same without his life-long contribution. He has been centrally involved in designing most Genelec products, altogether more than 60 loudspeaker system designs mainly for professional audio monitoring, most of them still in active production.
Ari Varla was one of the best and most renowned experts in speaker system design. His pioneering work with waveguide-loaded direct-radiating mid- and high-frequency drivers, dubbed DCW by Genelec, began in early 1980s and has resulted in their globally wide acceptance as a significant part of modern multiway designs for professional audio monitoring. He was also one of the central figures in the development which led to the low distortion LSE subwoofer enclosure concept. He holds several patents and has published numerous papers on loudspeaker design.
Ari was an inspiration to all of us at Genelec throughout the years. Despite his serious illness Ari elected to continue to work intensively with new loudspeaker designs as long as he humanly could, displaying that acoustics and loudspeaker design were truly a life calling to him. He was a firm proponent of applying the highest engineering standards in loudspeaker system design. He advocated novel designs, drawing from the very principles of acoustics in an inventive manner. His expertise was wide, from driver and loudspeaker system concept design to optimizing production methods and tools. His work was methodical and systematic, and this with his deep knowledge and excellent intuition of the acoustic phenomena has deeply inspired the several generations of younger engineers who had the privilege to work under him. His principles of maximizing the total system quality and methodologies in achieving them are deeply rooted in Genelec engineering methods.
Ari had the skills to design all the aspects of the electro-acoustic chain of an active loudspeaker, from the electronic filtering and signal processing operations through to the power amplifier characteristics and the properties and construction of drivers and their enclosure systems. Ari was also extremely adept in manually fabricating elaborate electro-acoustic prototypes, bending all materials to his needs.
This was also witnessed by his free-time activities in form of BMW cars renovated to perfection, immaculately refurbished fishing gear, electric guitars, and in particular vintage tube guitar amplifiers of which he was an acknowledged expert. In addition to playing the guitar, Ari's hobbies included fishing and astronomy. He always had his fishing boat ready on a trailer to go to any of the local lakes or to the more distant salmon rivers of Lapland. He enjoyed making very tasty food with his family and friends. And obviously, in the field of astronomy he designed and built his own Dobsonian 20" telescope fitting in the trunk of his BMW to be easily ported to any suitable location for observations.
Ari had a great sense of humor and could see the comic side to many issues. He frequently made sharp-eyed remarks about any triviality or artificiality of human life. There was no topic where he could not find a surprising and often humorous angle to share in a meeting or at the cafeteria table, and all who knew him do remember his magnificent laughter.
Even though we knew of his cancer already for some time the rapid final progressions of the illness has now suddenly left his family, his friends, the whole Genelec community as well as many partners worlwide in a deep and sudden grief.
Mr. Varla was a member of the AES.
Genelec Recycling Information
Genelec Active Monitors are designed to last several years in demanding professional use. Authorized Genelec dealers provide spare Recycling parts and expert repair service, giving added life for damaged or failed units.
However, if it turns out that your Genelec monitor is damaged beyond repair, please take care that it is scrapped in an authorized recycling facility and according to your local environmental legislation. Do not attempt to dismantle the monitor yourself!
Note the following aspects about recycling some main components:
Speaker drivers contain several different materials so they should be dismantled for recycling.
DCW is made of plastic or aluminium, both well suited to recycling.
Damping material is either glass wool or linen wool. Glass wool can be recycled, linen wool can be burned or composted.
Amplifier plate is made of aluminium and can be recycled when all components have been removed.
Rack mount amplifier casing is made of pressed steel and can be recycled.
Amplifier components can be recycled according to your local electronic equipment recycling standards. Do not burn any of the amplifier components.
Cables and connectors can be reused in a suitable application or recycled according to your local electronic equipment recycling standards.
Packing material: Cardboard and plastic can be recycled or burned in a waste disposal oven. Plywood can be recycled or burned in a controlled high temperature waste disposal oven and metal parts of plywood boxes can be recycled.
Cabinets: MDF cabinets can be burned in a controlled high temperature waste disposal oven, aluminium cabinets can be recycled.
Product Prizes & Awards
2014 - M Seres - 1st Pipa Pro+Light And Sound International Press Award
2014 - Technical Excellence & Creativity Award for the M Series - Studio Monitor Technology
2014 - the Genelec 1031A entered the TECnology Hall of Fame 2014
2013 - PAR Excellence Award for the M Series
2013 - M Series Gear of the Year 2013 by Audio Media - Outstanding & Innovative product released
2013 - 8240A Sound on Sound Award - Best Studio Monitor
2011 - 8260A Musikmesse International Press Award (MIPA)
2011 - 1238CF Best New Product API Award
2011 - 1238CF Technical Excellence & Creativity Award
2010 - 8260A Gear of the Year 2010 by Audio Media - Outstanding & innovative product released
2010 - 8260A winner of Monitoring category in the Resolution Award
2010 - Technical Excellence & Creativity Award for 8260A
2010 - Keys Magazine Readers Award for 8040A
2009 - Top-20 hits of AES 2009 Show for 8260A - Mix Magazine
2009 - PAR Excellence Award for 8260A following 12th AES Convention - PRO Audio Review
2009 - TEC Award for the 6010A and 5040A Desktop Audio System
2009 - Radio World Magazine's "Cool Stuff" Award for the 6010A Active Loudspeaker
2009 - Fennia Prize 2009 Grand Prix awarded to the 5040A active subwoofer
2008 - TEC Award for the SE DSP Monitoring System
2008 - Musikmesse International Press Award (MIPA) for the 8240A DSP Monitoring System
2007 - TEC Award for the 8200/7200 DSP Series Monitoring Systems
2007 - Keys Magazine Readers Award for 8240A
2007 - Best Audio Innovation Award for 8200/7200 DSP Systems - Digital Studio Magazine
2006 - PAR Excellence Award for the 8200 DSP Series Monitoring System
2006 - Mix Certified Hit Top Ten Technology Award Musikmesse - Genelec 8200 DSP Series
2006 - PAR Excellence Award for the 8200 DSP Series Monitoring System
2006 - PAR Excellence Award for the 7050B LSE Active Subwoofer
2006 - Musikmesse International Press Award for the 8050A Monitoring System
2005 - TEC Award for the 8050A Monitoring System
2005 - Remix Technology Award - 8130A
2003 - TEC Award for the 7070A Active Subwoofer
2003 - EQ Blue Ribbon Award for the 7073A Active Subwoofer
2002 - EQ Blue Ribbon Award for the LSE Active Subwoofer Series
2001 - EQ Exceptional Quality Award for 1029.LSE PowerPak 5.1 Monitoring System
2001 - PAR Excellence Award for the 1029.LSE PowerPak 5.1 Monitoring System
2001 - Musikmesse International Press Award for the 1031A Monitoring System
2000 - Musikmesse International Press Award for the 1031A Monitoring System
2000 - TEC Award for the 1036A Main Control Room Monitoring System
2000 - PAR Excellence Award for the 1093A Active Subwoofer
1999 - PAR Excellence Award for the 1036A Main Control Room Monitoring System
1997 - TEC Award for the 1029A/1091A Monitoring System
1997 - BE Radio NAB Pick Hit Award for the 1029A/1091A Monitoring System
1997 - Musician Magazine Editor's Pick Award for the 1029A/1091A Monitoring System
1996 - TEC Award for the model 1039A
1996 - PAR Excellence Award for the 1029A/1091A Monitoring System
1996 - EQ Blue Ribbon Award for the 1029A/1091A Monitoring System
1995 - TEC Award for the model 1030A
1995 - Professional's Choice Award for the model 1031A - Producer Version
1993 - TEC (Technical Excellence & Creativity) Award for the model 1038A
Corporate Awards & Honors
2008 - Doctor of Science in Technology H.C. for Ilpo Martikainen (Helsinki University of Technology)
2005 - The Executive of the Year Award for CEO Ilpo Martikainen (Okobank & Kauppalehti)
1999 - The Golden Key Award (The Union of Finnish Labour and MTV-3)
1995 - The President's of Finland Award for Export
1993 - The National Award for Export (Finnish Foreign Trade Association)
1990 - The National Business Award
1989 - Company of the Year (The Northern Savo area company prize, The Savo Entrepreneurs)
1988 - Company of the Year (The Town of Iisalmi, The Entrepreneurs of Iisalmi and The Cooperative Bank of Iisalmi)
1981 - Productive Idea Award (The Junior Chamber of Commerce and Kauppalehti Magazine)
Company Prizes
2008 - Iisalmi Corporate Floorball Cup 1st Prize for Team Genelec
2006 - Iisalmi Corporate Floorball Cup 1st Prize for Team Genelec
2005 - Iisalmi Corporate Floorball Cup 3rd Prize for Team Genelec
2003 - Iisalmi Corporate Floorball Cup 1st Prize for Team Genelec