our suppliers
Vicoustic
More than just a manufacturer Based in Paços de Ferreira, Portugal, Vicoustic has established itself as one of the most dynamic companies in the acoustic solutions industry. The research-based manufacturer offers a range of innovative products and services, representing the outcome of years of development, testing and optimization. Vicoustic's engineers work in strategic partnership with other industry sectors, including science institutes and universities, as well as gaining regular feedback from some of Europe's leading acoustic engineers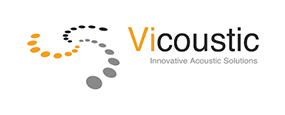 VICOUSTIC
More than just a manufacturer
Based in Paços de Ferreira, Portugal, Vicoustic has established itself as one of the most dynamic companies in the acoustic solutions industry. The research-based manufacturer offers a range of innovative products and services, representing the outcome of years of development, testing and optimization. Vicoustic's engineers work in strategic partnership with other industry sectors, including science institutes and universities, as well as gaining regular feedback from some of Europe's leading acoustic engineers.
In addition to outstanding performance, Vicoustic products have a revolutionary design and a high level of fire retardancy, which makes them suitable for use in a variety of venues.
Vicoustic's mission is simple: Improve the way you listen to your music in an affordable and accessible way. "Many people buy expensive speakers, and use them in very bad acoustic conditions" says César Carapinha, Vicoustic's CEO. "Now it's possible to improve the way you listen to your music, in an affordable and accessible way. Vicoustic offers products for all budgets and highly specialized staff to help you create your ideal listening room".
Investor Relations Department
Investor Relations Department, aiming to the right, equal and transparent information, has undertaken the creation of efficient method of two way communication among the company and its shareholders, the equity analysts, and in general the investment community.
Its target is to increase the shareholder's value through the systematic up date and its contribution to the better understanding of the company and its future development plans. In line of, Investor Relations Department is responsible for the communication strategy with the Portuguese and Foreign Institutional Community, the Press and the equity analysts. It organizes conference calls for the announcement and the presentation of quarterly results.
For more information, please contact us at investors@vicoustic.com
Vicoustic's New Warehouse and Logistic Facility
Vicoustic Warehouse and Logistic Facility
Based in Paços de Ferreira, Portugal, the new logistic unit reflects sustained growth and will guarantee the conditions Vicoustic needs to shorten delivery time and venture into the industrial sector.
The front entrance is inspired by Vicoustic's flag ship panel, which makes quite a statement!
The complex also has two showrooms: one multipurpose and configurable room with magnetic walls; the other a fully equipped Hi-Fi room for sound testing. Complete with an R&D center, including a unique laboratory which has a variable volumetric room for low frequency analysis that can be transformed into an anechoic and reverberant chamber, ideal for in-house testing and studies.